Welcome to Byers Chevrolet, LLC Service Center
Courteous, Professional Care for You and Your Vehicle
You already know routine maintenance is the key to keeping your Chevrolet Trax, Silverado 3500HD, Equinox, Traverse or Silverado 1500  running like new for a long time. Valuable services such as oil changes and tire rotations are essential to the lifetime of your vehicle. They're also important because they help prevent your vehicle from developing larger, more complicated maintenance issues down the road. Don't trust that important service to just any garage. Trust the Chevrolet trained and certified service center at Byers Chevrolet, LLC.
Service your Chevrolet at Byers Chevrolet, LLC
From smaller maintenance tasks like oil changes and inspections to large repairs like brakes, transmission, exhaust (and more), drivers can count on the Byers Chevrolet, LLC service team. From routine service on your Chevrolet vehicle to service on other brands, Grove City drivers can look to our service team with confidence. Beyond this, Columbus, Dublin, Ashville, Orient, and Galloway drivers can look to our service team for warranty and recall assistance (depending on your brand and model).
Get Routine Maintenance & Repairs for Your Chevrolet Trax, Silverado 3500HD, Equinox, Traverse or Silverado 1500  in Grove City
You should contact us today with questions about the services we provide or to schedule an appointment with our team at Byers Chevrolet, LLC. We have the experience and dedication to repair and maintain your Chevrolet Trax, Silverado 3500HD, Equinox, Traverse or Silverado 1500, and it only takes a moment to learn how we can help you. You can set up your appointment with us today and get closer to building a relationship with a team who cares.
Service Offers And Pricing
We offer competitive prices on popular vehicle services like oil changes, brakes and tires.
Maintenance
Need New Tires?
Your vehicle's tires are the first and only contact with the road, so it is important to choose the right set when replacing them. Byers Chevrolet, LLC has Certified Service experts that will handle all of your tire needs. From checking tire wear to tire pressure, our team can also help you find new tires for your vehicle.
Need an Oil Change Near Grove City
Driving around with dirty oil - or not enough oil - can shorten the life of your engine. Our Certified Service experts can change your oil quickly. Schedule an appointment today.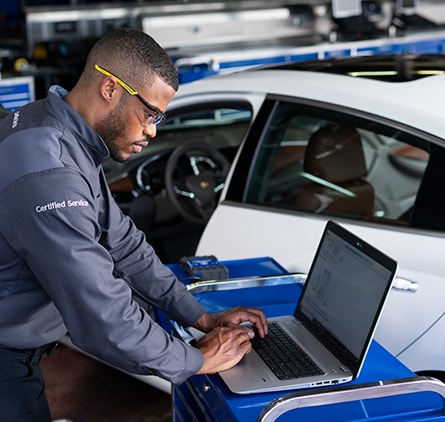 MULTI-POINT VEHICLE INSPECTION
With your Multi-Point Vehicle Inspection, you get a thorough assessment of your vehicle by the Certified Service experts. So protect yourself and your automotive investment with a comprehensive vehicle inspection at your Byers Chevrolet, LLC today.
Download the GM Multi-Point Vehicle Inspection Sheet
The Multi-Point Vehicle Inspection form uses a simple color-coded key to assess maintenance terms:
Red indicates items that need immediate attention.
Yellow indicates items that should be addressed in the near future.
Green indicates no items to address.
Hearing Brake Noise?
Stopping power is crucial to a safe and successful driving experience. When you need brake service, visit Byers Chevrolet, LLC and the Chevrolet Certified Service experts can recommend quality new brakes.
Battery Trouble?
Your vehicle's battery provides energy to start the engine, plus it supplies power to accessories when the engine is not running. The cold of winter and the heat of summer can affect your auto battery. See us for your vehicle's battery needs.
GET IN TOUCH
Contact Our Service Department
Service

:

(614) 441-4918
Monday

7:00 am - 6:00 pm

Tuesday

7:00 am - 6:00 pm

Wednesday

7:00 am - 6:00 pm

Thursday

7:00 am - 6:00 pm

Friday

7:00 am - 6:00 pm

Saturday

8:00 am - 4:00 pm

Sunday

Closed
See All Department Hours
Service Dept. Hours
Monday

7:00 am - 6:00 pm

Tuesday

7:00 am - 6:00 pm

Wednesday

7:00 am - 6:00 pm

Thursday

7:00 am - 6:00 pm

Friday

7:00 am - 6:00 pm

Saturday

8:00 am - 4:00 pm

Sunday

Closed
Parts Dept. Hours
Monday

7:00 am - 6:00 pm

Tuesday

7:00 am - 6:00 pm

Wednesday

7:00 am - 6:00 pm

Thursday

7:00 am - 6:00 pm

Friday

7:00 am - 6:00 pm

Saturday

8:00 am - 4:00 pm

Sunday

Closed
Dealership Hours
Monday

9:00 am - 8:00 pm

Tuesday

9:00 am - 8:00 pm

Wednesday

9:00 am - 8:00 pm

Thursday

9:00 am - 8:00 pm

Friday

9:00 am - 6:00 pm

Saturday

9:00 am - 6:00 pm

Sunday

12:00 pm - 5:00 pm